Congrès internationaux

2010 ECVBM-CA Study Days
2010 ECVBM-CA Study Days
These 2 days of seminars are intended to cover topics and provide content that are in a residency program, preparing for examination or are interested in entering a residency program. The course is also open to those interested in learning more about the topics or for discussion with the speakers considering entering a residency program, preparing for examination 2 days of advanced seminars. This workshop will immediately follow the Annual congress.
Program
Monday September 27, 2010
8 am to 11:30 am
Dr. Andrew Luescher - Aggression
Canine aggression to family members in the household
Canine aggression to other dogs in the household
(including neurobiology and pharmacological intervention)
12:30 pm to 2:30 pm
Dr. Gary Landsberg – Brain aging and cognitive dysfunction n dogs and cats and Drug Therapy
12-2 pm: Cognitive dysfunction syndrome – diagnosis and treatment in dogs and cats
2-3 pm: The use of drugs and natural products in behavioral medicine – A North American Perspective
3:00 to 4:30
Dr. Kersti Seksel
The role of behaviour in measuring and defining animal welfare
4:30 to 5 pm
Q & A
Tuesday September 28, 2010
8 am to 5 pm
8:00-2:30
Dr. Patrick Pageat - A guide to understanding the French approach to diagnosis, terminology and treatment
a) Introduction: methodology and selection of significant clinical signs
b) Terminology and diagnostics
c) Selection of drugs and association with behaviour modification programs
3 to 5 pm
Panel discussion and Q & A with all speakers
How can different approaches work to achieve the same goals
Registration fee: € 300,00
Register early – space is limited
Location:
VMP8 Seminar Room Nr. 105
Building for Educational Sciences
University of Hamburg
Von-Melle-Park 8
20146 Hamburg
How to register
PRE-REGISTER sending immediately a mail to mcosella@alice.it with the registration form filled out
Then REGISTER
Step one: you can choose between two payment forms
1. Relevé d'Identité Bancaire/IBAN
Cadre réservé au destinataire du RIB
Titulaire du Compte: COLLEGE EUROPEEN DE MEDECINE VETERINAIRE DU COMPORTEMENT
Domiciliation TOULON RODE (01975)
RIB : 30004 01975 00010013482 80
IBAN : FR76 3000 4019 7500 0100 1348 280
BIC : BNPAFRPPTLN
2. Paypal payment is available on this address
Add 7 % fee if you want to be sure to have the right amount
Contact ECVBM-CA Treasurer Claude Beata if you have any doubt.
A payment receipt will be supplied.
Step two: send the registration form and the payment receipt to
Maria Cristina Osella (ECVBM-CA Secretary), Vic. Sant'Elena 6, 10034 Chivasso (Italy)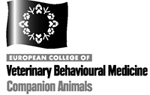 2010 ECVBM-CA STUDY DAYS
REGISTRATION FORM
Name
Qualification
Address
Tel.
Fax.
Email
Date
Signature